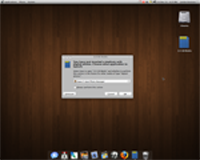 A lot of people on the forums seem to be interested in Linux. Some got sick of Vista. Perhaps as a result of low hardware specs? Some want more security and some just want a free operating system. Those who want more security are in luck, Linux, which is based on UNIX (if you don't know what UNIX is don't worry about it), in my opinon is more secure than Windows. Users who are unhappy with Vista will find Linux to run very fast, even on old hardware, but is Linux really a good alternative to Windows? Isn't Windows worth the money? Maybe, but maybe not.

If all you use your computer for is web browsing, IM, email, and word processing I'd highly recommend Linux to you… you can probably do away with Windows altogether. Also Linux is very good for image editing, be warned it doesn't play nicely with Photoshop though. Running Photoshop natively is out of the question, you're only option would be to emulate Windows (using Wine or similar software) and you can't expect CS2 or later to work… I've tried. For some, this is a deal breaker, but it doesn't have to be. Linux comes with a very good alternative to Photoshop… you may of heard of it before. It's called Gimp. I am an amerature photographer and have found it, at least for my purposes, to be on the same level as Photoshop.
Linux also has some good video editing software, but if you're a pro stick with Windows (or Mac.) For basic video editing Kdenlive should do the trick. Cinelerra is made for more advanced editing, but it's interface is quite sloppy and it's not all that efficient.
For IM your best options are Pidgin and Skype. Pidgin supports many different types of IM accounts including AIM, MSN, Google Talk, Yahoo, and a good deal more. Skype is basically, well, Skype. Unfortunately Pidgin is sorely lacking in video chat… we'll see what happens.
There's some pretty good audio recording software for Linux as well. Audacity and Ardour are both very good… they don't come close to software like Cubase, CakeWalk, or ProTools though.
Then, of course, there are games. If you're a hardcore gamer you'll want Windows without a doubt. You could try to emulate Windows games or play some Linux games (I highly recommend Sauerbraten!), but it won't be as good as gaming in Windows.
So whether Linux is good enough really depends on what you do with your computer. Is Windows the ultimate operating system? No, but it is ahead in some places that it really matters, so Windows may be worth the money. I personally have no need for Windows and use Linux as my main/only operating system.