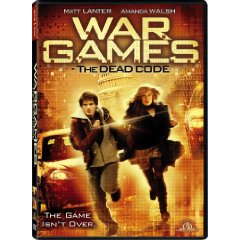 Well I spotted this in the video rental store, the fact they had only one copy of it, suggested it would no doubt be a b-grade movie. Sure enough it was an average movie, but for fans of the original War Games, made 25 years ago, this movie was a must see.
This movie was made in 2008 and billed as the sequel to the original War Games. Personally I would have preferred if they had remade the original for today and tried to add a degree of realism to the movie. But alas, that was not to be. The highlight of the movie was the appearance of WOPR (War Operation Plan Response) with its 5.25″ floppy drive. One downside of the movie, was that at times, it looked like one big advertisement for Pringles Chips, when you see the movie, you will know.
I would rate the movie 5 out of 10. Discussion Thread here.