It started in early December when my wife asked me "what do you want for Christmas?"  She wanted to get something for my computer but of course she had no idea what exactly to get.  I found the Coolermaster V8 on German ebay for 52 Euros, about $70 U.S. dollars.  When it arrived she wanted me to wait until Christmas and unwrap it with the family.  I told her "I have to see if everything is ok in the case we have to return it."  Here are some observations
The packaging was well designed and protected the cooler from a smashed box corner during shipping.  The Cooler is aesthetically pleasing with a soft red LED light mounted inside.  It looks spectacular, my first thoughts were very well engineered piece of hardware.  When I took the cooler out of the package I was fully expecting to give it a once over lapping job.  When I saw the contact surface I realized a lapping job would ruin it.  The contact surface is nearly polished chrome, very nice quality indeed.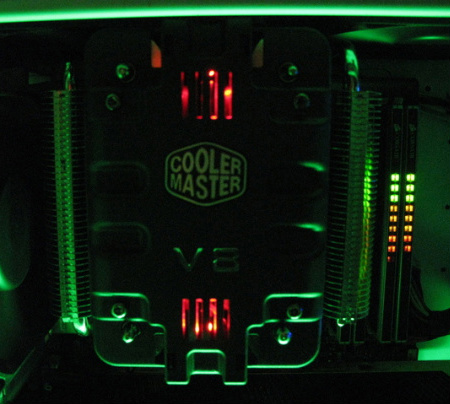 There are a few things to consider when mounting the cooler. Size, this thing is huge and will take a nice chunk of space inside any case. The official size from the Coolermaster website is 120 x 128 x 161.1mm. If you are interested with this cooler make sure your case can support the size requirements. I have it mounted in a Coolermaster 690 Nvidia Edition case and the term "tight-fit" applies. When mounted, the cooler has about 1/8 of an inch clearance from the top mounted 120mm exhaust fans. The cooler has about the same clearance from the cooler top to my side panel, I can push on my side panel and touch the case window to the cooler. Mounting this beast you will have two options. You can mount the cooler with the supplied bracket and nuts or you can mount it with rubber washers and the supplied nuts. The instructions show both options. I choose the bracket for more stability, this cooler has a little weight behind it. You will need an empty PCI slot in your case for mounting the speed controller. Be aware that your motherboard will have to be completely removed for installation. Installation was easy and I encountered no major issues. You might need an extra person to assist you, my wife had to help, I only have two arms. I considered mounting the cooler sideways so the cooler fan would blow the air up and out my top mounted exhaust fans, I tried it and the cooler would touch my RAM.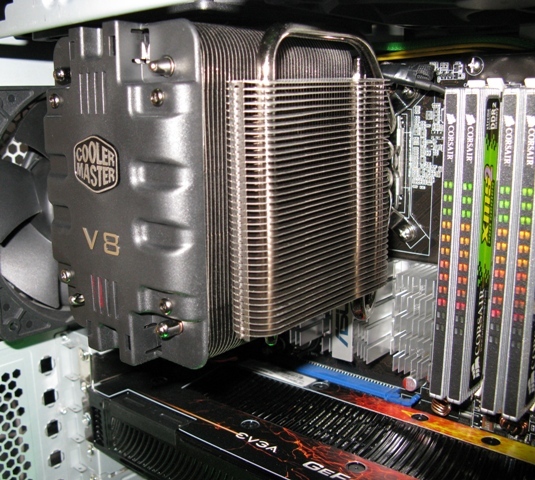 Performance is great! I had a Coolermaster Hyper TX2 with an awesome lapping job mounted before. I noticed a difference in idle temps as soon as I started the computer. I played around with the speed controller and monitored temps…kinda disappointed. Adjusting the speed of the fan did nothing at all for temps at idle or load. I can hear the fan speed up but absolutely no change in temps. Idle temps dropped with the new cooler 11c and load temps dropped 13c! When running Prime95, the load temps drop to idle temps within seconds after stopping the burn.
Overall I am very pleased with the Coolermaster V8…great product and well engineered. You will be pleased with the looks and the performance of the Coolermaster V8.  You really can't ask for much more from an air cooler!
Here are a few screen shots of a Prime95 burn and idle. My Intel Q9300 has a slight overclock running @ 2750 MHz.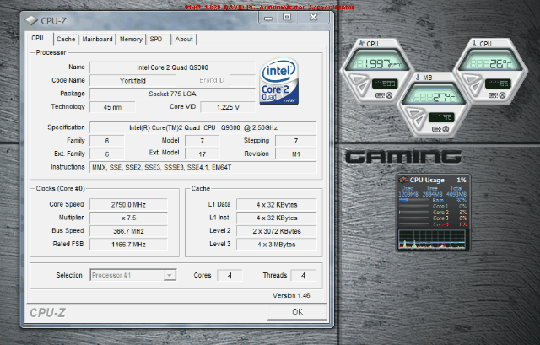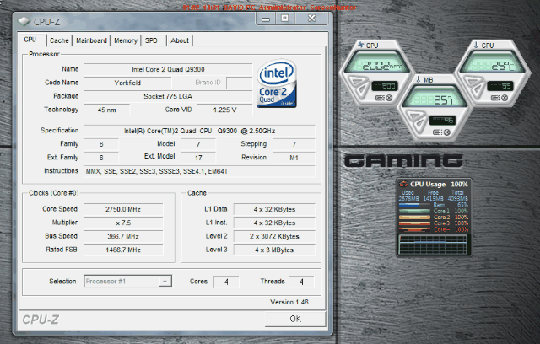 The Coolermaster V8 can be discussed here at computerforum.com