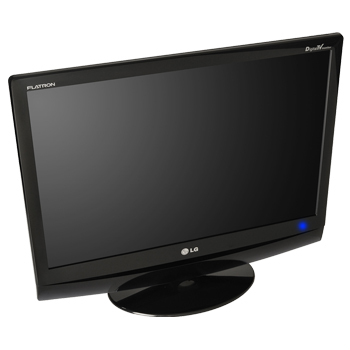 The television market has always been one that's been subject to rapid changes; 5 years ago you could get a plasma that needed an external input box, 2 years ago you could get a HD plasma or LCD that could run up to 1080p but was the size of Belgium and now the manufacturers are going miniature again with 'HD' (I'll explain the inverted commas later) screens as low as 19″. My current television is a Sharp, which for the last 3 years has seen several thunder bugs die behind the outer panel because the local farmers seem to do their harvesting at the one time you need your windows open because your PC is gently turning the room into a kiln. These black splodges suggested I needed to purchase a new one, which I duly did in the form of the LG M2294D (which in so much as I can tell the model number means it's a 22″ screen)
Opening the box up I got a standard kettle cable plus a 3.5mm cable and VGA cable for the PC inputs. I also got the usual ton of manuals and a very simple remote which makes a nice change from the usual trend of having a load of buttons that you're never likely to use on it! Then there was the TV itself, here's a list of what you get for inputs:
2 SCART sockets;
HD Component sockets;
2 HDMI sockets;
1 DVI socket;
1 VGA socket;
1 3.5mm socket;
1 Optical In socket;
1 PCMIA card slot (err, what for?);
So it has lots of inputs which is a good start, the DVI and VGA connectors will appeal to those wanting to use their TV as a PC monitor as well. The TV can support 1080p although confusingly the actual panel is only 1680×1050 which instead of being 16:9 (which is traditionally what HD TV's are), it's 16:10 which is more common on laptops and monitors. However, whilst upscaling is good, I found downscaling, thanks to the odd size and huge downscaling required (the monitor is almost twice the resolution of normal TV), suffers a bit, although seeing as I use the TV from a distance it's not bad. HD video is excellent and Crysis looks very nice, the speakers are also a little weak under very heavy bass but you have the option of using your own should you wish.
The setup and settings menus are the best I've ever seen in a TV, they're clear and quick but at the same time I'd like to see more navigation instructions. The EPG is similarly good with it simply overlaying the picture so you can see what garbage you're watching. To set-up the TV took all of 10 minutes with most of that spent with the system searching for channels (of which it found ~100) automatically. The TV itself looks very good and all you need to do is screw the base on (which is nice and sturdy I must say) and plug it in. But be warned, it's a dust magnet and I'm currently trying to work out why it attracts every microbe in the area.
Overall this is a good buy, it's not overly expensive yet doesn't feel cheap at the same time, the standard definition scaling could be a little better and the speakers could do with more low-end definition but that's it really. Recommended.
This review can be discussed here.