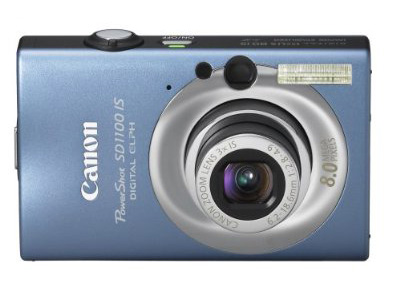 FEATURES:
8.0 Mega Pixel
3x Optical zoom
2.5″ color LCD
Red eye correction and facial recognition
30FPS video capturing
Color isolation and panoramic capabilities
Automated blur reduction
INCLUDED IN BOX:
Canon Powershot SD1100 IS
Canon software disc
Software starter guide
Direct print guide
Camera user guide and alternate language guide
USB interface cable and AV cable
Lithium ion battery pack and charger
32MB memory card
When you turn it on for the first time you will immediately notice how bright and crisp the 2.5″ LCD screen is. All of the menus and functions are accompanied by bright little tones that never get annoying. The menus are easily navigated and well laid out. It will never take you more than a few seconds to find what you are looking for. The layout of the camera is much the same as other digitals. Power button on top, sat right beside the shutter button. A little tab extends from the shutter which serves as the zoom switch. It is tiny, and barely protrudes from the camera at all, but feels solid. On the back of the camera is a push tab to switch between shooting, video, and review modes. Below that is a ring with different settings at the top, bottom, left, and right, with a smaller circle in the center with even more options. A "Disp" button removes the user interface to display only what is being pointed at, or turns the LCD off completely. This is a very viable way of saving battery life in between shots.
At the bottom of the camera is a place to insert your battery and memory cards. It has to be pushed to one side and then pulled downwards to release the battery and SD card. It is nice because although it is very simple to gain access to this part of the camera, it also feels very secure when shut, and you will never have to worry about it coming open unexpectedly.
Once the camera is on and you are ready to shoot, you just point and hold the shutter button. It will auto focus and use flash as necessary. Auto focusing is one of the most valuable features the 1100IS has to offer. I intentionally moved from side to side while snapping a shot, and it still came out clear. All but the most extreme movements will be compensated for by this feature. Once the photo has been taken, it will be displayed on the LCD for a predetermined amount of time, which you can use to decide if you like the shot, or if you want to remove it. The macro image setting can be used to take extreme closeups and still get great clarity. Snapping excerpts from a textbook, small bugs or animals, and flowers are some of my most common uses for this. With proper lighting I have been able to take closeups with such detail you would swear it was taken by a professional photographer. This brings me to my overall favorite thing about this camera. No matter what you are doing, you feel confident that the turnout will be satisfactory. The 1100IS makes even a first time user feel comfortable and able to take great photos.
When I bought the camera, I bought it to take photos. I knew it had a video mode, but was not expecting much at all from it. I decided to test it out one day at an airshow, where the decibel level regularly exceeded 140. The audio was captured perfectly, and dare I say was even able to pay justice to the impressive and awe inspiring sound made by a passing jet. The video was much better than I expected when not zoomed in. Zooming in was one way to quickly degrade the quality of the shot, but you really can't complain about that when using a point and shoot like the 1100IS.
I give the Powershot 1100IS a 5/5 star review. The $170 I paid was money well spent, and I would gladly do it again. If you are in the market for a point and shoot camera, and have no interest in professional photography but still want clear photos and video, there is no reason to buy anything but the 1100IS.
This post can be discussed here.