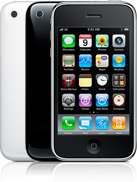 Looks like the rumours surrounding the release of a new Iphone were fairly spot on, with the exception of the front facing camera.  Named the Iphone 3GS. I believe the S stands for speed, full details can be found here. Some of the new features include.
1. Up to 2x faster browsing, although they do not mention RAM or processor specifications.
2. Can now shoot video without using any unapproved apps like the previous iphone.
3. A 3.0 megapixel auto-focus camera which people have stated is a major improvement over the old 2.0 megapixel one.
4. Voice control
5. Cut, copy and paste, a landscape keyboard and MMS
For all those who currently own a 3g iphone, will these new features be tempting enough to make you upgrade?